EP 684 Is Private Equity Plundering American Businesses?
EP 684 Is Private Equity Plundering American Businesses?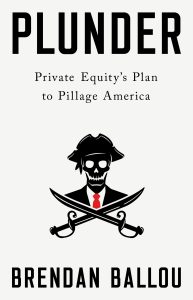 Private equity is a growing sector of investment financing in America where whole companies, not shares in them, are purchased with money from the principals in the private equity firms, as well as outside investors, while the rest is borrowed, often with the company being purchased assuming that debt liability while the investors cash in from the get go.  It sounds like a get rich quick scheme and in many cases it is, as these companies, in many sectors of our economy are bought, hollowed out and re-sold in a short time span.  Companies like Toys R Us, Sears and Sports Authority have fallen victim to the machinations of private equity.  Here's the kicker:today the industry owns more businesses than ALL those listed on US stock exchanges combined.  It's staggering.  Private equity firms gobble up a trillion dollars in new businesses each year and engorge politicians with campaign money to keep them virtually unregulated.  At some point, like S&L's, investment banks and others who have gotten too high on the hog, something will have to give in this new behemoth in the 'financialization' of America.  According to Attorney Brendan Ballou, author of "Plunder: Private Equity's Plan to Pillage America", ;private equity surrounds you' as they buy up your veterinary clinic, your dentist's office or your nursing home.  It's everywhere and we describe its workings today on this podcast.
Podcast: Play in new window | Download