EP 683 Politics Often Fails Us: Why?
EP 683 Politics Often Fails Us: Why?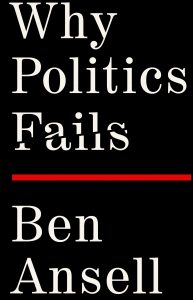 As the wealthiest nation on earth, America should have made poverty a historical curiosity.  Yet it is still with us and the wealth inequality gap continues to widen.  As the major existential threat we face–climate change-is showing up everywhere in the form of floods, wildfires and intense hurricanes, some among us still doubt its existence and global consensus about what to do about remains elusive.  So there you have it.  Poverty and climate change.  While we all aspire to create a better world, perhaps, what WE would have to give up to achieve it is beyond the level of sacrifice we are willing to pay.  Do I want to pay more in taxes to help the other guy?  Do I want to pay more for gas to drive my car if it pushes us to a cleaner future?  Our guest, a respected professor of comparative democratic institutions at the University of Oxford(yes that one) has written a compelling new book entitled "Why Politics Fail" in which he describes why are collective goals–democracy, equality, solidarity, security, and prosperity–are undermined by what he calls 'political traps.' Our aims are altruistic, but our actions are governed by self-interest that undermines our ability to deliver on our collective goals.  Think about it as you listen.
Podcast: Play in new window | Download